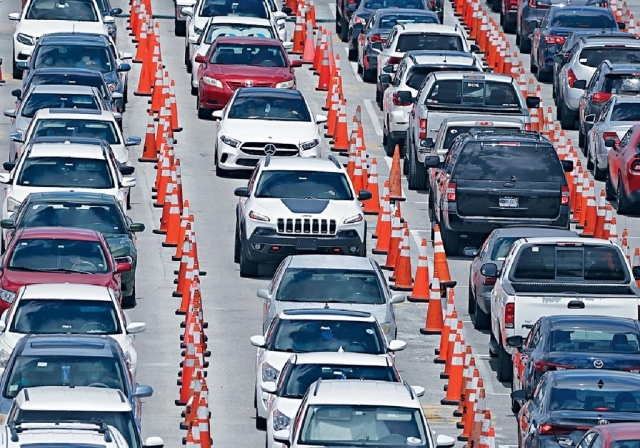 The number of people diagnosed with New Coronary Pneumonia exceeded 10 million, and about 500,000 died. Many countries around the world have raised US$6.9 billion (HK$53.5 billion) in response to the epidemic, which will be used for research and development of vaccines and treatments, as well as virus testing for more people. In addition, there were two new cases of new coronary pneumonia imported in Hong Kong yesterday, with 15 consecutive infections in Japan.
  There are nearly 43,000 more people infected in the United States, and more than 2.5 million people have been diagnosed. After restarting economic activities in several southern states in recent weeks, the epidemic has rebounded significantly. Among them, the number of new single-day cases in Florida and Texas has reached new highs. The epidemic situation in Brazil is still severe, with more than 38,000 new cases in a single day, with a cumulative total of 1.3 million cases.
  A number of countries around the world held a video fundraising meeting to raise a total of US$6.9 billion, or about HK$53.5 billion, in response to the new coronary pneumonia epidemic. The funds will be used to develop vaccines and treatments and make viruses for more people. Testing, and supporting poor countries to respond to the epidemic. European Commission President Von Delaine emphasized that the most important thing is that after the vaccine is successfully developed, it must benefit all those in need. She will persuade high-income countries to reserve vaccines for low- and middle-income countries.
  Two new cases of new coronary pneumonia were imported into Hong Kong yesterday. Both of them returned to Hong Kong from India the day before yesterday. At the same time, there were 15 consecutive Japanese infections. There were 14 new local cases in the Mainland the day before yesterday, all from Beijing. From last Friday (25th), the guide price for nucleic acid detection in Beijing Public Hospitals has been reduced from RMB 180 (HK$ 196) to RMB 120 (HK$ 130) ), medical institutions are not allowed to increase the price, the reduction is not limited.